Immerse yourself in the dazzling beauty of Whitehaven Beach, a remarkable gem nestled in the heart of the Whitsunday Islands, Queensland, Australia. This awe-inspiring beach, with its pure silica sand and turquoise waters, offers an unforgettable experience that will leave you yearning for more.
Discover the Mesmerizing Whitehaven Beach
Whitehaven Beach is not just a beach; it's a breathtaking spectacle of nature. The sand here is 98% pure silica, giving it a brilliant, almost luminescent white colour. This unique composition means the sand doesn't retain heat, making it comfortable for barefoot walks even on the sunniest days. The beach stretches for nearly seven kilometres, offering plenty of space for relaxation and exploration.
The Unbelievable Beauty of Hill Inlet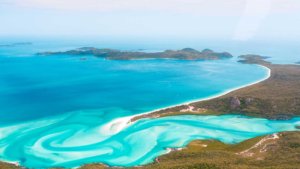 At the northern end of Whitehaven Beach lies the stunning Hill Inlet, a glorious cove where the tide shifts create a mesmerizing swirl of colours. The view from the lookout point is nothing short of magical, with the turquoise sea blending seamlessly with the white sand to create a breathtaking vista.
Experience the Magic of Whitehaven Beach
Whitehaven Beach has something for everyone, whether you're a thrill-seeker or a tranquillity lover. Take a dip in the crystal-clear waters, bask in the sun on the soft white sand, or take a leisurely stroll along the beach for the more adventurous, diving adventures offer an opportunity to explore the Great Barrier Reef and the coral cays that dot the lagoon.
Tours and Trips to Whitehaven Beach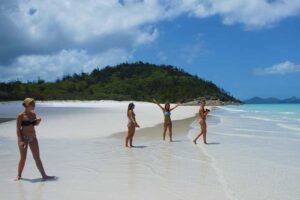 Getting to Whitehaven Beach is part of the adventure. You can take one of our overnight sailing tours from Airlie Beach, or there are also Whitehaven Beach day trips. For a more luxurious experience, seaplane and helicopter tours are available, offering a bird's eye view of the stunning Whitsunday Islands and the Great Barrier Reef.
Camping at Whitehaven Beach
Camping facilities are available for those who wish to immerse themselves fully in the beauty of Whitehaven Beach. Imagine waking up to the sound of waves gently lapping against the shore and the first rays of the sun illuminating the pure white sand. It's an experience like no other.
Frequently Asked Questions
What is so special about Whitehaven Beach? Whitehaven Beach is renowned for its crystal white silica sands and turquoise colored waters. The sand consists of 98% pure silica, which does not retain heat, making it comfortable to walk on even in the heat of the day.
Is Whitehaven Beach safe to swim? Yes, Whitehaven Beach is safe to swim. However, like any beach, it's important to be aware of the conditions and swim within the designated areas.
Can you stay on Whitehaven Island? While there are no hotels on Whitehaven Island, camping is permitted with the appropriate permit.
Is Whitehaven Beach a wonder of the world? While not officially listed as one of the wonders of the world, many visitors would argue that the stunning beauty of Whitehaven Beach certainly qualifies it as a natural wonder.